Downhill on a scooter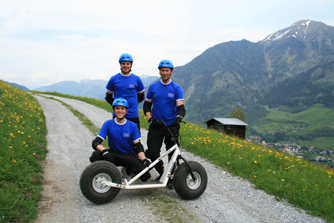 Up with the lift and down on the scooter! The lift operator, Gasteiner Bergbahnen, has something new on offer from the end of June until mid-September.
Up on the Kleine Scharte (2,050 m), the Schlossalms summit station, we have off-road scooters waiting for you. This is a fantastic experience of a different kind, that is, scooting with ease and in comfort over a natural road down to the halfway station on one of the cool two-wheelers without any physical exertion.
You will receive instruction from and be accompanied by professional guides.
It goes without saying that you will also be given safety equipment such as helmet, protectors for elbows and knees.