Golf
From the apartments balconys there is a wonderful view over Gastein Golf Club. Actually you could reach the fairways with a relatively good drive from balcony - but only in theory - please do not try it :)
Bad Gastein, and Salzburger land is a paradis for golfers. The local golf course in Bad Gastein is one of Austrias most traditional golf courses.
Occupying a fascinating position within the landscape, the fairways and greens blend harmoniously into the base of the Gastein mountains. Crystal clear air and thermal water that springs from the depth of the Tauern make this golf course without any doubt one of the most beautiful golf courses in the entire Salzburg region.
This 18 holes golf course run by the Golf Club Gastein, one of the oldest and most traditional golf clubs in Austria, founded in 1960. The location is truly a Godsend gift, a successful blend of both undulating and level fairways, long standing trees and small mountain streams, which promise not only a sporting challenge but an unforgettable experience.
Within a radius of 50 km there is 11 top courses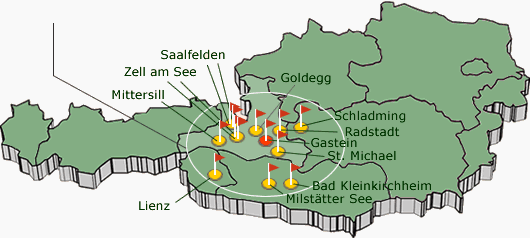 If you would like to recce the golf paradise in the immediate vicinity Bad Gastein is an ideal starting point for beautiful golf trips, since within 50 km you will find a further 11 golf courses. We are happy to advise you.
Should the weather not play along to the north of the Alpine divide then you can make use of the following convenient alternative - the nearby Tauernschleuse (car train) in Bad Gastein takes you to the south of Austria in only 10 minutes where you can find more golf courses.
A bit further away - but still reachable by car
Dreamround
This section is perhaps the most to ourselves. Here, we keep track of the best score through time, we have made in the various holes.
We do of course not play this course quite as often as our homecourse in Denmark, so it is a little fun to keep track of what holes one historically has found difficult / easy.
Have you lived in the flat and have a score you will have "reported" you are very welcome to send us an email.
| | | | | | | | | | | | | | | | | | | | |
| --- | --- | --- | --- | --- | --- | --- | --- | --- | --- | --- | --- | --- | --- | --- | --- | --- | --- | --- | --- |
| | 1 | 2 | 3 | 4 | 5 | 6 | 7 | 8 | 9 | | 10 | 11 | 12 | 13 | 14 | 15 | 16 | 17 | 18 |
| Par | 3 | 4 | 5 | 3 | 4 | 3 | 5 | 5 | 3 | | 4 | 4 | 3 | 4 | 4 | 4 | 5 | 3 | 5 |
| Thomas | 2 | 4 | 5 | 3 | 3 | 3 | 5 | 5 | 3 | | 3 | 4 | 3 | 3 | 3 | 4 | 5 | 2 | 4 |
| Kirsten | 3 | 4 | 6 | 3 | 3 | 3 | 6 | 6 | 3 | | 4 | 5 | 3 | 4 | 4 | 5 | 5 | 3 | 5 |
| Rasmus Skov | | 4 | 6 | 3 | 4 | 3 | | 6 | 3 | | 5 | 5 | 4 | 4 | 5 | 4 | 5 | 3 | 5 |
| Tommy Kling | 3 | 6 | 5 | 4 | 6 | 4 | 7 | | 5 | | 5 | 5 | 3 | 5 | 7 | | 6 | 3 | 5 |
| Niels Henrik | 3 | | 6 | | 4 | | 6 | 5 | 4 | | | 5 | | | | | 6 | | 6 |
| Betina | 4 | 4 | | 4 | | 3 | 6 | | 3 | | 5 | 5 | | | 5 | | 6 | 4 | |
| | |
| --- | --- |
| Eagle | |
| Birdie | |
| Par | |
| Bogey | |
| Double Bogey | |
| Triple Bogey | |
| Quad Bogey | |
| Ikke registreret | |