Rafting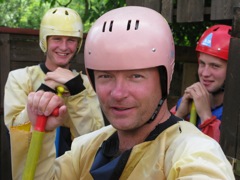 Their equipment is ok, but not the latest fashion
At the end of the Gastein valley (just under 30 minutes. by car from the apartment) is the chance for some of Austrias best white-water rafting. It takes place on the river Salzach, between Taxenbach and Schwarzach.
There are different tours with different difficulty levels - for everyone to benefit. Even families with children. It must simply be experienced.
In our own little family we spent a few days to persuade the lady in the house. Finally she agreed to come along, and then she laughed continuously for more than 2 hours and afterwards she had to admit that it was one of the funniest and wildest rides she has ever tried.
The only thing you shall bring is your swimsuit and a towel - you borrow all the necessary safety equipment of the company which organises the trips.
Canyoning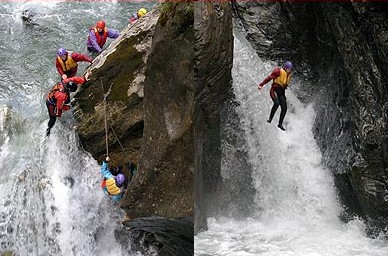 If you prefer canyoning it is possible as well. Canyoing is a little wilders and includes, for instance two 10 metre drops. We ourselves have not even tried yet - but it is quite high on the "wishlist" the next time we are there.
Contactinfo
Read more at www.raftingcenter.com.
The company which organises the trips is situated in the centre of the city Taxenbach:
Rafting Center Taxenbach
Markstrasse 38
5660 Taxenbach

Tel.: 06543 / 5352
Mobile: 0664 4025149
e-Mail: info@raftingcenter.com